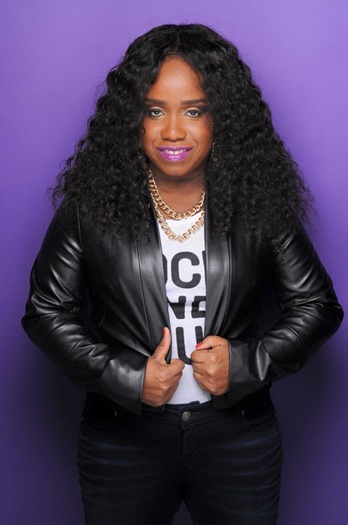 Annie Jules- the Producer
Miami native, Annie Jules a/k/a "The Black Pearl", a name given to her by her professor in high school, began playing her first instrument, the piano, at the young age of ten.  Prior to taking formal lessons, this musical prodigy was self-taught; learning through ear she had what seemed an effortless natural flow through her fingertips; music was making an impression on her.


As early as four years old, Annie began listening to a variety of music including gospel, jazz, classical, hip hop, R&B and Caribbean music.  Annie's unique talents developed through her love of music, listening to legendary artists such as Stevie Wonder, Prince, Earth Wind & Fire, Ray Charles and Michael Jackson; inspired she continued to learn progressing musically with everyday with every new note.
 
Annie then ventured into xylophone and steel pan in high school where she began participating in the Marching and Jazz Band performing at colleges, festivals, and evaluation competitions. During this time she took part in Jazz and Classical courses, profoundly enhancing her skills and musical repertoire. Annie was moved when listening to Jazz greats such as Miles Davis, Oscar Peterson, Art Tatum, McCoy Tyner, and John Coltrane. In high school, Annie was part of a straight superior rated band and went on to win first place locally in Miami for Musical Contemporary/Instrumental and second place for Musical Classical/Instrumental for the NAACP ACT-SO Competition.

Continuing her education at Florida Memorial University, Annie graduated with a Bachelor's of Arts in Music Production. It was during these college years Annie discovered her love and passion in producing music for local Miami talent. Annie was then seeking to take her music to the next level then encountered an amazing opportunity to work and co-produce in the studio with Producer and President, Ricki Erik of Realm Music Group, an indie record label and recording studio located in Hollywood, FL.  Ricki Erik, also a singer/ songwriter & musician was taken aback by this local college student when he heard here demo tape, he immediately asked her play some parts to a track he was working on in the studio.  "Annie is a talented producer who wanted experience in the music business and in the studio", says Ricki Erik and "we as a record label immediately saw an incredible natural gift in Annie and we wanted her on our team of producers working in our studio for our company. 


Realm Music Group later helped Annie to showcase her music and producing skills with the release of her first debut album in 2013, "Annie Jules presents Greatest Love Christmas Album", the Christmas album showcases her originality, interpretation and creativity.  It was the sweet sugars of Neo-Soul, R&B, Jazz, Gospel, Alternative Rock, and Hip Hop that influenced her original sound. "I want my music to make a difference in peoples lives, empowering and uplifting every mind, heart and soul" says Annie.  Thinking outside the box, Annie didn't create just any Seasonal album; her unique style and interpretation of music is sure to capture popular attention. "I believe this album will showcase who I am as a musician, composer and producer."  "My favorite track on the album is "Carol of the Bells", I love the classical sound of strings with an orchestra playing through freedom of expression, exactly how I felt while making this amazing track."  "All of these songs are created from my heart. I hope that many people will love it, embrace it, enjoy it and most of all be filled and feel blessed with the true spirit of Christmas through my music."   We invite you and encourage you to have a listen to the new holiday traditions with Annie Jules unique, modern spin on old Christmas favorites! Check her out for yourself: https://itunes.apple.com/us/artist/annie-jules/id641971165#

Realm Music Group is proud to be the first to showcase such amazing musical composition and interpretation.  Stay tuned you can expect to hear more great things coming from this uniquely gifted talented musician they call the Black Pearl.
Available for Licensing exclusively at
Realm Music Group LLC
Contact Realm Music Group for more information at
Tel: 508-297-3256 / 508-29-REALM www.realmmusicgroup.com